EXPLORE YOUR LEXUS LEASE RETURN OPTIONS IN SHARON, MA
When your Lexus lease is about to reach maturity, it can be difficult to know what your options are beyond the terms of your lease. Fortunately, Herb Chambers Lexus is here to help. Our Sharon, MA, Lexus dealership is an authorized Lexus lease return center, which means we can make the lease-end process simple and stress-free. Whether you want to keep driving your car, trade it in for a newer model or simply want to turn in your expiring lease, Herb Chambers Lexus in Sharon is here for you.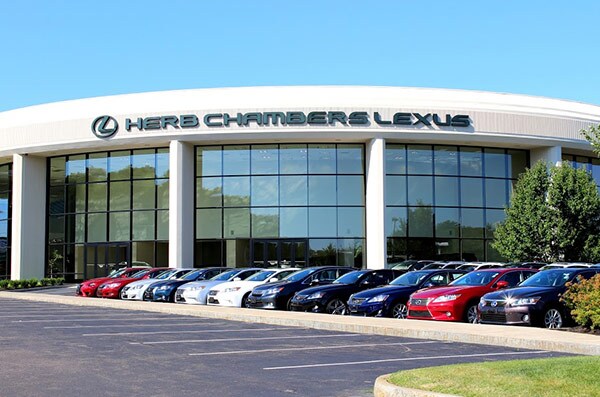 WHAT OPTIONS DO I HAVE WHEN MY LEXUS LEASE IS ABOUT TO END?
When your Lexus lease is about to end, you have three end-of-lease options:
Upgrade to a new Lexus model. If you want to return your Lexus so that you can pursue a newer, different Lexus model, we can help.
Purchase your leased Lexus. If you want to keep driving your beloved Lexus car or SUV for many miles to come, you can purchase it by working with our Lexus financing team. Purchasing your vehicle eliminates concerns about excess mileage or wear and tear charges and is a smart option for many buyers.
Return your leased Lexus. Have you decided to move on from your Lexus and don't want or require a new car from our dealership? We understand. We'll help you make the Lexus lease return process as simple as possible, and we'll always be here for your future Lexus needs.
DO I HAVE TO RETURN MY LEXUS LEASE TO THE DEALERSHIP I LEASED IT FROM?
You do not! You can return your leased Lexus to any authorized Lexus return center, including Herb Chambers Lexus in Sharon. Whether you moved across the country, within Massachusetts or simply want to do business with us, we welcome the opportunity to help you with your lease return regardless of where you leased your Lexus from.
CAN I SCHEDULE MY LEXUS PRE-INSPECTION WITH HERB CHAMBERS LEXUS?
Yes. Whether you plan on purchasing, trading in or simply returning your Lexus lease, you can schedule a Lexus pre-inspection at our Sharon, MA, Lexus dealership. Book your Lexus pre-inspection here to prepare for your end-of-lease options.
Does Our Lexus Dealer Accept Toyota Lease Returns?
In addition to operating as a certified Lexus lease return center, we also offer Massachusetts Toyota drivers the option to return their leased vehicles here. We'll never pressure you to make a decision on a new Lexus lease when you return a Toyota lease in Sharon, MA. Come review your Toyota lease-end options with one of our experts and make the necessary next steps with confidence.
DIRECTIONS TO HERB CHAMBERS LEXUS RETURN CENTER
It's easy to get to our Lexus lease return center in Sharon, MA. We're located at 25 Providence Highway, Route 1, in Sharon, MA, which makes us easy to get to from Walpole, Franklin, Quincy and beyond. Get directions here, then visit our dealership to explore your Lexus lease return options today.